How to Choose an Organic Mattress Pad

Organic mattress pads are designed to keep your mattress free of moisture and dust. They also help reduce common allergens and prolong the life of your mattress. In addition, it provides breathable, light-weight padding that slightly cushions the mattress surface. We suggest using a certified organic cotton or wool pad on all of your mattresses, from crib to king. It's an essential component to creating a healthy bed. Here's how to choose the perfect pad:
First, select a mattress pad style that suits your needs.
Organic mattress pads come in a variety of styles, all of which are compatible with innerspring and natural latex mattresses. Choose from:
Quilted: a fitted pad (or flat for cribs) with a quilted top.
Stretch: a fitted knit pad with stretch.
Flat: a flat pad with corner straps (or strapless for cribs).
Waterproofed: typically a flat pad with a waterproof barrier.
Consider these tips when selecting a mattress pad style:
Know your mattress height before buying a fitted mattress pad as pocket depths can vary from brand to brand.
Select features such as quilted, stretch, flat or waterproofed, based on your personal likes and needs. For instance, some customers who sleep on a natural latex mattress prefer a knit pad because it hugs their mattress and gently moves with it. Others favor a quilted pad because they like the feel of the subtle padding. Parents with kids and/or pets opt for a waterproofed pad….just in case.
Next, choose a fiber: organic cotton or wool.
Customers often ask us which is better for a mattress pad,certified organic cotton or wool? Both provide excellent mattress protection. They breathe, absorb and wick moisture naturally, without the use of chemical coatings or synthetic materials. Choose from:
Certified organic cotton: this fiber is frequently used in organic mattress pads of all styles. It absorbs, breathes and is free of chemical irritants even when waterproofed. A pad made from 100% certified organic cotton will do a great job at protecting your mattress from sweat and dirt. It's easy to maintain: machine wash and dry 1 to 2 times per month to keep dust-mites away.
Certified organic or untreated wool: this fiber is commonly used in felted flat pads. Wool that is densely felted can absorb up to 30% of its weight in moisture and then slowly releases it. It's great at deterring dust-mites, too. A flat wool pad can be machine washed cold on gentle and then line dried for best results. You might also find washable wool batting in quilted mattress pads, which provides all the same moisture absorbent and wicking benefits a flat pad offers.
A mattress pad's primary purpose is to guard against sweat and soiling. Place it directly on top of your mattress as a protective layer and cover it with your fitted bottom sheet.
Leave a comment
Comments will be approved before showing up.
---
Also in Satara Blog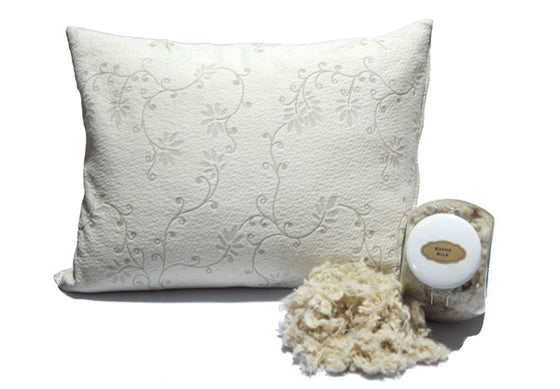 Kapok fiber boasts many healthy sleep benefits making it an ideal stuffing for adult and kids pillows. Although kapok pillows are relatively new to many people here in the U.S., this unique fiber has been harvested for centuries to make natural mattresses and cushions in other parts of the world.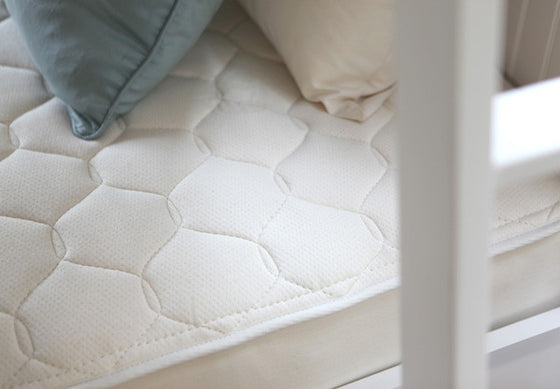 It's the breathable, natural materials: organic cotton, wool and natural latex. Each one of these materials has its own unique natural properties that provide your child with safe, comfortable sleep. Here's how they work: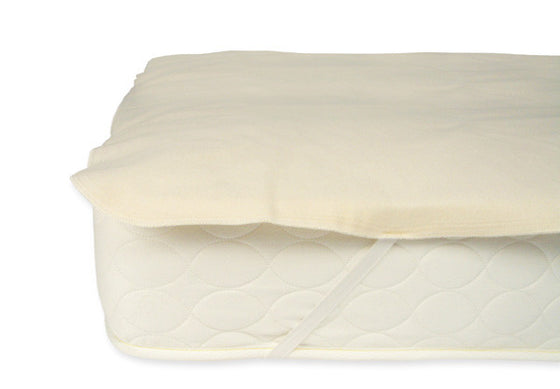 When shopping for organic baby bedding don't forget an organic waterproof crib mattress pad. You'll need this breathable, protective layer to keep your baby's bed dry and comfy. Why organic?