How to Care for your Natural Pillow

A natural fiber pillow such as, Kapok, Woolly Bolas, Natural Latex, Alpaca and Down, requires little effort to keep it clean and comfy. The main thing to remember is they are not designed to be machine washed and dried like a synthetic pillow. Instead, we suggest using non-wash methods for keeping your natural pillow free of sweat, dust and allergens, as well as, maintaining its loft. For best results follow these simple care tips:

Kapok
Here at Satara Home we've been selling Kapok pillows for many years and always offer this advice to our customers: Don't wash your Kapok pillow. We've found that this fiber will permanently clump and sometimes turn brittle when washed, making the pillow not useable. Instead, we suggest:
Cover your Kapok pillow first with a zippered pillow protector and then with a pillow case. These 2 layers of fabric will greatly reduce sweat and dust from getting into the fiber. Wash the cases weekly.

Kapok fiber naturally deters dust mites; however, cotton pillow cases do not so remember to wash your pillow protector and pillow cases on a regular basis. This will help prevent dust mite allergens.

Keeping Kapok free of moisture and dust will prolong the fiber's performance. Keep in mind silky soft kapok will naturally compact over time. Fluffing your pillow will help revive the loft. When choosing a Kapok pillow consider an adjustable style – one with a zippered case that allows you to remove or add fiber as needed.
Many of our natural pillows come with a beautiful double-layer knit case. To clean your case, machine wash in cold and tumble dry low. Avoid high heat and long drying time. Stretch it a bit after it comes out of the dryer to regain the length.

Natural Latex
Natural latex pillows made of Dunlop or Talalay in any style are easy to care for.
Protect your pillow from moisture and dust with a pillow protector and a pillow case. Never wash the latex material. Natural latex naturally deters dust mites but cotton cases do not. Wash your cases on a weekly basis to reduce allergens.

Keep unprotected natural latex away from direct sunlight. Exposure to sunlight will cause yellowing and deterioration.

Natural latex pillows hold their shape very well and will keep a consistent shape over the years. No need to fluff or replace the material like other natural fiberfill.
Woolly Bolas
Like other natural fiber pillows, it's important to keep your woolly bolas pillow protected from sweat and dust with a pillow protector and pillow case. Wash cases weekly. Put your wool pillow outside in the sunlight from time to time – it will help rid the fiber of residual moisture.

Can a woolly bolas pillow be washed and dried per the care instructions on the package? Yes, but we don't recommend it. Why? I found washing changes the comfort of the pillow; the felted bolas bits swell, matt and clump, which results in a less springy texture than the before washed fiber. Even after spending much time and effort on teasing apart the fiber the bolas bits never resume their original shape and loft. Read more about how I washed my woolly bolas pillows.
Duck Down and Feather
We strongly recommend encasing your duck down pillow in a pillow protector and a pillow case to keep it free of moisture and dust. Wash your cases weekly to avoid dust mite build-up.
If washing your down pillow is absolutely necessary we suggest dry clean or home laundry only1 to 2 times per year. For machine wash follow these care instructions:
Leave a comment
Comments will be approved before showing up.
---
Also in Satara Blog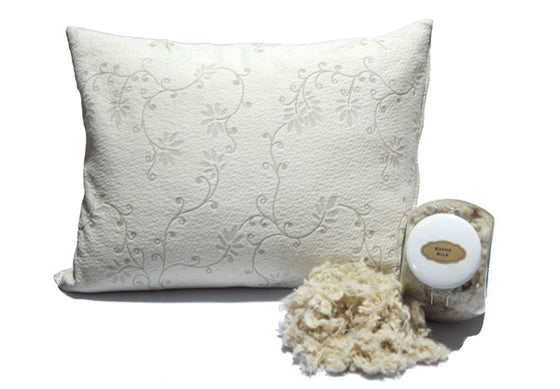 Kapok fiber boasts many healthy sleep benefits making it an ideal stuffing for adult and kids pillows. Although kapok pillows are relatively new to many people here in the U.S., this unique fiber has been harvested for centuries to make natural mattresses and cushions in other parts of the world.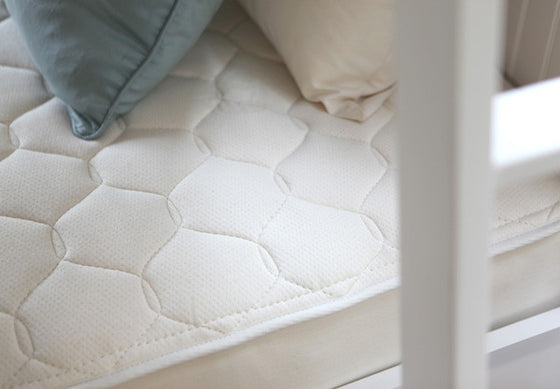 It's the breathable, natural materials: organic cotton, wool and natural latex. Each one of these materials has its own unique natural properties that provide your child with safe, comfortable sleep. Here's how they work: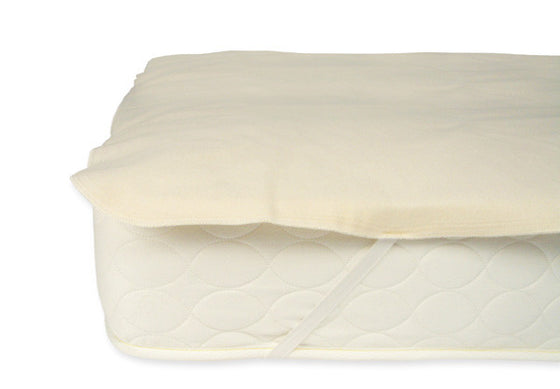 When shopping for organic baby bedding don't forget an organic waterproof crib mattress pad. You'll need this breathable, protective layer to keep your baby's bed dry and comfy. Why organic?